BSS Audio Introduces a Cost Effective Addition to the Soundweb™ London Processor Line
February 04, 2014
AMSTERDAM, The Netherlands – HARMAN's BSS Audio today announced the addition of a cost-effective signal processor to its acclaimed Soundweb™ London family of digital signal processors. The new Soundweb London BLU-50 represents a premium, open-architecture solution in the form of a highly flexible, cost-effective and scalable package.

The BLU-50 is a half-rack width processor that offers a fixed configuration of four inputs and four outputs, configurable signal processing, logic processing and BLU link. The device can be powered with the included 12VDC power supply but can accept 12-48VDC via a terminal block connector. The BLU-50 can also be powered with PoE+ via the Ethernet port, allowing the device to be powered, configured, controlled and monitored using a single Cat 5e cable.

The analog inputs of the BLU-50 provide software configurable gain in 6dB steps up to +48dB per channel and software selectable Phantom Power per channel. Phantom Power, Signal Present and Clip information per channel is easily accessible, without the requirement for a PC, from clear front panel LED indication.

The BLU-50 features BLU link, a low latency, fault tolerant digital audio bus of 48 channels, which uses standard Category 5e cabling giving a distance of 100m between compatible devices. Fiber media converters can be used to increase the distance between devices to over 10km (6.2 miles) using single mode fiber.

The BLU-50 is configured, controlled and monitored from HiQnet Audio Architect™ or HiQnet London Architect™ and is compatible with other members of the Soundweb London family. Its 48 channel BLU link bus represents channels 1-48 of the larger 256 channel BLU link bus when integrated with the BLU-800, BLU-320, BLU-160, BLU-120, BLU-BIB and BLU-BOB devices. Up to 60 BLU link compatible devices can share channels on a single bus.

As with other Soundweb London devices, 12 Control Inputs, six Logic Outputs and an RS-232 port allow the BLU-50 to be integrated with other compatible devices.

"With so much capability packed into such a small device, combined with its powering and mounting flexibility, the BLU-50 is the most versatile and affordable open-architecture processor we've created to date. The BLU-50 further extends the scalability of the Soundweb London platform and represents a major milestone in the broader applicability of open-architecture solutions," stated, Iain Gregory, Market Manager for installed sound, HARMAN Signal Processing.

HARMAN designs, manufactures, and markets a wide range of infotainment and audio solutions for the automotive, consumer, and professional markets. It is a recognized world leader across its customer segments with premium brands including AKG®, Harman Kardon®, Infinity®, JBL®, Lexicon®, and Mark Levinson® and leading-edge connectivity, safety and audio technologies. The Company is admired by audiophiles across multiple generations and supports leading professional entertainers and the venues where they perform. More than 25 million automobiles on the road today are equipped with HARMAN audio and infotainment systems. HARMAN has a workforce of 14,800 people across the Americas, Europe, and Asia and reported sales of $4.7 billion for the last twelve months ended December 31, 2013.
Related Products

4x4 Signal Processor with BLU link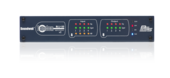 4x4 Signal Processor with BLU link