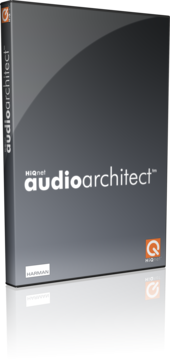 System requirements:
32 & 64-bit versions of Windows Vista, Windows 7, Windows 8
Audio Architect will run on Windows XP but is not supported
As a minimum, a 64-bit Windows operting system with a 3.0GHz dual core processor is recommended.
The amount of required RAM increases with greater quantities of devices, Custom Panels and presets. 4GB RAM minimum is recommended.
As the scale of the Audio Architect Venue file increases, it may also be required for system specifications to increase.
The brand new HiQnet Audio Architect™ audio system design and configuration software application retains the revolutionary system design philosophy centered on operational workflow first introduced in HiQnet System Architect™.
In creating Audio Architect, Harman has also incorporated the BSS Audio Soundweb London DSP system backbone within the core functionality of System Architect – combining the power of Harman's proven open-architecture platform with AKG wireless microphones, dbx processors, Crown amplifiers and JBL powered loudspeakers.
Please read the FAQ below before downloading:
How does it differ from System Architect and London Architect?

The interface is a derivation of System Architect, although with an optimized underlying codebase to improve performance for larger systems, with Soundweb London included in a 'Soundweb London world' to retain as much familiarity with London Architect as possible.

There have been some enhancements made over the London Architect interface:

● A new matrix control with significant operational enhancements
● A more intuitive mechanism of configuring GPIO ports
● An improved Soundweb London preset configuration interface

Which Soundweb London devices are included in the latest version of Audio Architect?

From the outset, the following Soundweb London devices will be supported:

● BLU-800
● BLU-320
● BLU-160
● BLU-120
● BLU-100


The following devices will be added after first release:

● BLU-806 (Dante / BLU link)
● BLU-326 (Dante / BLU link)
● BLU-805 (AVB / BLU link)
● BLU-325 (AVB / BLU link)
● BLU-102
● BLU-101
● BLU-8 v2

What new devices are included in Audio Architect?
The following models of the new Crown DriveCore Install Series of amplifiers:
● DCi 2|300N
● DCi 2|600N
● DCi 4|300N
● DCi 4|600N
● DCi 8|300N
The new Crown USBX Ethernet to USB server which enables Ethernet control of the following USB amplifiers:
● CDi Series
● DSi Series
● XTi Series
● XTi 2 Series
Which London Architect features are included in the latest version of Audio Architect?

The majority of the London Architect / Soundweb London feature set will be included from first release, but the following will also be added after first release:

● 96kHz support
● Macros
● Room combining
● FIR filters
● Signal naming
● AEC
● Telephone hybrid card support
● DI control string generation for third-party control


Existing London Architect files cannot be imported into Audio Architect at this time.

If any of the above features are required for a system, we suggest continuing to use London Architect in the meantime, while they are added to Audio Architect.
What's changed from System Architect?

There are a few differences, but really only improvements.

● Simplified networking
● Matching devices by dragging and dropping devices on the network to devices in the Venue design
● A new Synchronize Venue mechanism enables connecting to the network with far more flexibility
● Improved workflow


Note that due to the Audio Architect enhancements, System Architect and Audio Architect should not be run alongside each other.

Due to the underlying changes in the software, at this time existing System Architect files cannot be opened in Audio Architect. Device files and Custom Panel files can be imported however.