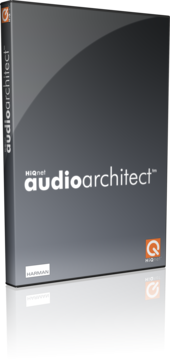 System requirements:
64-bit versions of Windows 7, Windows 8.1, Windows 10
Minimum Performance Guidelines:
CPU: 64-bit dual core @ 2.0GHz or better, 4GB of RAM
Optimal Performance Guidelines:
Audio Architect is a computationally intensive application. The hardware requirements needed to run Audio Architect optimally depend on your venue file. Number of devices and custom panels are the biggest contributors to the amount of memory required. Not having enough memory will have the biggest impact on performance. As a rule of thumb, the amount of memory required should be at least (3GB + 100MB x number of devices).
While the number of processor cores can improve performance, processor clock speed will have a bigger impact on performance.
Note: Local Administrator user rights are required to install Audio Architect. If you are having difficulty installing Audio Architect and are aware that you do not have Local Admin rights on your computer, consult your IT department for access.
HiQnet Audio Architect™ audio system design and configuration software application retains the revolutionary system design philosophy centered on operational workflow first introduced in HiQnet System Architect™.
In creating Audio Architect, Harman has also incorporated the BSS Audio Soundweb London DSP system backbone within the core functionality of System Architect – combining the power of Harman's proven open-architecture platform with AKG wireless microphones, dbx processors, Crown amplifiers and JBL powered loudspeakers.
London Architect functionality within Audio Architect FAQs - Soundweb London users please read for the latest status...
Download legacy versions of HiQnet Audio Architect and HiQnet System Architect...
Online HiQnet Audio Architect help file...
New in Audio Architect version 2.25.1
● Main Application
○ Bug fixes
● Crown
○ DCi DA Series bug fixes