Requirements:
Compatible with iPad (1, 2, Retina display), iPad mini, iPhone (3GS, 4, 4S, 5) and iPod touch (3rd, 4th and 5th generations). Requires iOS 5.1 or later.
HiQnet Motion Control™ – an Apple iOS app enables customized control interfaces designed in Audio Architect to be exported to iPad, iPhone and iPod Touch devices for mobile system control. Dedicated design templates are available within Audio Architect for the configuration of customized interfaces, which can be used to control BSS Audio Soundweb London and DriveCore Install Series.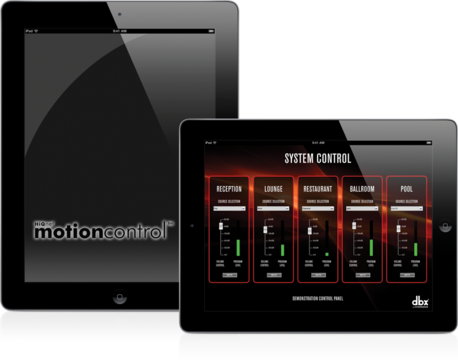 Any number of control panels designed within the Audio Architect custom panel designer can be loaded onto an iOS device directly from the Audio Architect interface, without the need to connect to Apple iTunes. Navigation between the panels couldn't be easier - either by the use of swiping gestures or from an automatically-generated bar at the bottom of the iOS display.
Motion Control is the perfect tool for system-specific, day-to-day control, as well as a tool for commissioning engineers to walk the venue with control literally at their fingertips.

For more information, download the HiQnet Motion Control
Quick Start Guide:
black background | white background (better for printing)