Audio networking as easy as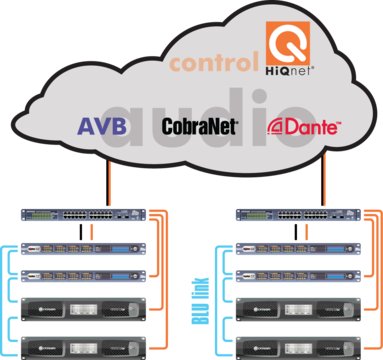 Whatever scale and flavor of audio networking the system demands, Soundweb London and DriveCore Install Series together provide the solution. Whether it's simple point-to-point localized high-channel count within a rack to venue-wide Ethernet-based audio networking, Audio Architect provides it all.
HiQnet Audio Architect includes the capability to route a wide variety of digital audio network protocols from and to compatible devices system-wide over an Ethernet network with AVB, Cirrus Logic CobraNet® and Audinate Dante™. Creating added audio routing flexibility within a HiQnet system design, Audio Architect can also be used to route audio amongst devices on a BLU link ring – Harman's proprietary low-latency, high-channel capacity digital audio bus. This versatility makes audio routing within a Harman system as easy as A, B, C, D. It is now possible to move from one networked audio transport to another and stay on the same control platform without needing to learn multiple software applications.
A is for
AVB ensures high quality audio and video streaming over Ethernet. What sets AVB apart from other Ethernet audio transports is that the network switches themselves ensure that media data is given complete priority over any other data on the network. Audio is guaranteed to arrive at the destination device with no interruption even possible. AVB claims a very low latency and a high audio channel count.
Harman devices which support AVB include the upcoming Soundweb London BLU-805 and BLU-325 processors as well as the Crown DriveCore Install Series amplifiers.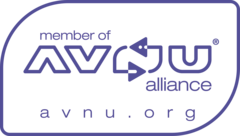 Harman is a founder member of the AVnu Alliance - an organization dedicated to ensuring AVB compatibilty across the audio and video industries in the professional, consumer and automotive markets. The increasing number of its member manufacturers are working together to make AVB fulfill its promise of becoming a unifying audio and video transport. Click here for more information on the AVnu Alliance.
B is for
Complementary to Ethernet-based audio transports, the BLU link digital audio bus provides an unprecedented level of routing flexibility. BLU link is capable of routing 256 channels of audio directly from device to device within a local rack, or an entire rack room. BLU link is fault-tolerant and is compatible with the majority of Soundweb London devices and DriveCore Install Series Network amplifiers.
Almost all the Soundweb London procesors support BLU link, as does the DriveCore Install Series Network amplifiers.
C is for
CobraNet technology, from Cirrus Logic, has long been the pro audio industry's adopted audio networking solution. Many HiQnet devices are CobraNet compatible and Audio Architect is capable of routing audio between them. CobraNet is based on 100Mb Ethernet, so channel counts are limited in comparison with AVB and Dante. Larger systems will often require managed switch configuration. Click here for the Cirrus Logic CobraNet website...
Harman devices which support CobraNet include the Soundweb London BLU-800 and BLU-320 processors.
D is for
Dante is a proprietary audio networking technology from Audinate and employs standard Internet Protocols over 100Mb and / or Gigabit Ethernet. Channel counts can be high over Gigabit Ethernet, although switch management is required for most Dante systems. The Soundweb London BLU-806 and BLU-326 bring Dante capability to the Soundweb London family. Click here for the Audinate Dante website...
Harman devices which support Dante include the Soundweb London BLU-806 and BLU-326 processors.
For more detailed information, please download the Audio Architect Guide To Audio Networking.